The 100% dynamic educational lead generation platform.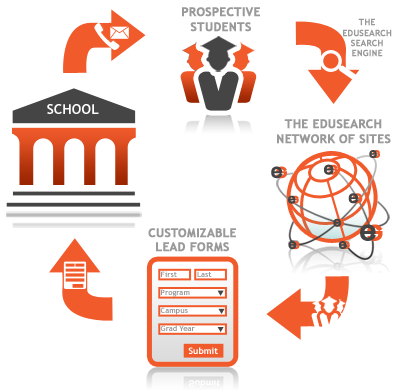 EduSearch is an advertising service for schools to find prospective students. Schools are matched with prospective students based on a multitude of factors: programs/degrees offered, traditional classroom or online training, geographical factors, and many more.
Once a prospective student finds a school they are interested in, they are guided to a customizable form to request information from that school. Additional screening is done at this time to make sure the prospective student is appropriate for the school. The qualified prospective student's request is then transferred in real time to the schools enrollment representatives.
Online educational lead generation is nothing new, and the EduSearch process isn't that much different on the surface, but EduSearch provides 100% dynamic education advertising and lead forms.
Why is dynamic advertising so important? Because it puts the controls back where they should be: with the advertiser, not the publisher.
EduSearch campaigns can be configured with the most granular controls, allowing lead buyers to optimize for both quality and volume:
Segment campaigns to customize settings for each campaign subset
Turn on or off campaigns or segments in real-time
Set the price per lead with specific prices per segment and change pricing at anytime
Create budgets or lead caps for daily, weekly, or monthly periods